Fleetwood Town (A) - Sat 21 Aug - Away Fans Guide
Author: Robins Trust/Cheltenham Town Support Liaison Officer, Jenny Hancock
Fleetwood Town are looking forward to welcoming Robins fans to Highbury Stadium this Saturday and have asked us to share the information below to ensure that travelling fans are able to access and enjoy the facilities they are offering and get the most from your matchday experience.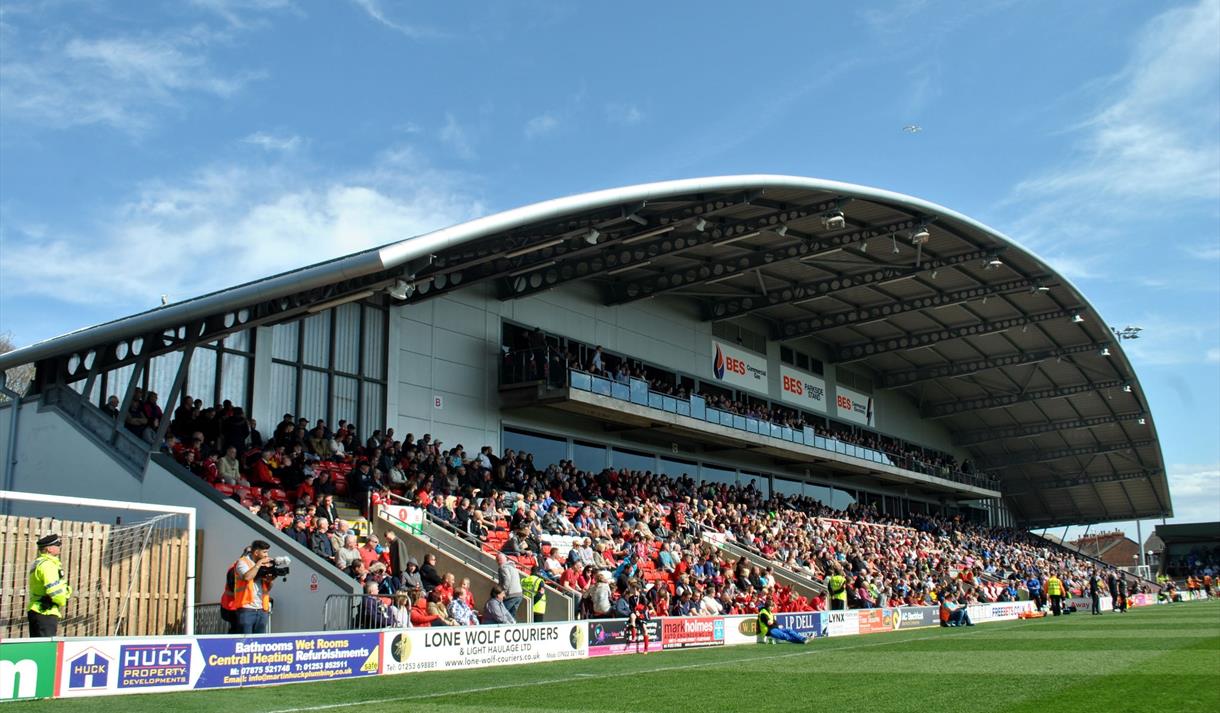 From Fleetwood Town Supporter Liaison
Hello everyone.
We are looking forward to welcoming you to Highbury on 21st August. Here are a few details about what is available for you on your trip to Fleetwood Town.
PLEASE BE ADVISED THAT FLEETWOOD TOWN FC, HIGHBURY STADIUM AND POOLFOOT FARM ARE CASHLESS VENUES. NO CASH CAN BE USED.
We operate a ticket admission system with pay on the day in operation.(Dependent on away fan ticket sales.)
WHERE TO SIT / STAND AT HIGHBURY

permalink
Away fans on match days are situated in the Percy Ronson Stand behind the goal (standing only), with fans having the option to sit in the Parkside in a designated away section.
THINGS TO DO AT THE GROUND

permalink
Jim's Bar is situated at the ground. The bar is open to both home and away supporters and serves a wide range of food and drink with live sport showing Sky Sports and BT Sport shown on our series of screens and televisions around the venue.
There are also kiosks within the concourses of the away end, which sell a range of hot and cold food and drinks, including alcohol which is available to those accessing the away end in the Parkside Stand.
Coaches must drop off supporters on Hatfield Avenue, FY7 7DT outside the Percy Ronson turnstiles.
Coaches are then required to park opposite The Steamer Pub on Queens Terrace, FY7 6BT (5 minute drive).
Coaches are then required to return to the drop off location on Hatfield Avenue at 16.40pm prior to the end of the fixture to collect supporters.
On your way to the stadium or on the way home, why not visit our state-of-the-art training ground Poolfoot Farm. We have a series of stay and play all weather football pitches, a child's play area and above all else you will find some excellent food and drink at Pizza Calcio.
Take a look at our website here www.poolfootfarm.co.uk
The address is Butts Road, Thornton-Cleveleys, FY5 4HX
Visit the Fleetwood Town club shop at Highbury before the game to purchase your official merchandise. The store is open from 9am on a matchday through until kick-off. It will re-open on the full-time whistle. There is also a range of club merchandise available at Poolfoot Farm, our training venue. But don't forget you can also buy online 24-7 at www.ftfcstore.com
MATCHDAY PROGRAMME

permalink
The club produces a matchday programme - it is available to purchase from the Club Shop, and from programme sellers around the ground before kick-off.
CONTACTING THE TICKET OFFICE

permalink
The Ticket Office can be contacted by calling 01253 775080, or by email info@fleetwoodtownfc.com.
I am located in the Highbury Ticket Office throughout the week and on matchdays and welcome any interaction with fans. Drop me an email on wayne.bibby@fleetwoodtownfc.com
Regards
Wayne Bibby SLO