The Robins Trust is delighted to announce the launch of the club's partnership with HerGameToo, a campaign to remove sexism and sexist abuse from the sport, and make grounds a safe-space for all fans.
The Robins Trust played a pivotal role in building the partnership, with FED Dave Beesley, SLO Jenny Hancock and board member Simon Watten making the initial contact with HGT and working with Caz May and the HerGameToo team to produce a detailed road map and instructions walking the club through every step required for the partnership.
It's no exaggeration to say this hugely important partnership wouldn't have happened without their hard-work and devotion to the cause of making our club welcoming for everyone - we'd like to thank them all on behalf of the Robins Trust and our entire supporter community.
Massive thanks to former Commercial Manager Richard Morris, now of Swansea City, who immediately saw how important this was for the club and understood how essential these initiatives are for football clubs in the 21st century.
We'd also like to thank Luke Saunders and his colleagues for their work on the club side, the CTFC Community Trust and Cheltenham Town Ladies. Grace Bailey, the Oxford United HGT Ambassador has also provided invaluable guidance on the process.
Alongside the partnership between the club and HGT, we're also delighted to welcome Kelly-Marie Selby as the Cheltenham Town HerGameToo Ambassador. Kelly-Marie told the club: "I'm very much looking forward to working with Cheltenham Town, to improve matchday experiences for women and girls. It's still very clear to me that unfortunately sexism is still happening and effects women in our game. I'm hoping this partnership with #HerGameToo, will not only help give women more of a voice at the club, but help to see changes made."
- the Robins Trust board
The Supporter Liaison Team on our female fanbase:
Women's football has never had a more prominent position on the world stage.
Cheltenham Town enjoys a family-friendly, inclusive atmosphere where everyone is welcome and has a growing following of women supporters.
We caught up with two of them: Tracey Holmes and Ruth Ennis.
Tracey, who has been a season-ticket holder since 2007, said: "I have always found CTFC to be a welcoming and friendly club towards everyone."
Tracey watches with her grown up son and daughter and more recently, her grandson Ronnie, who is now old enough to join them.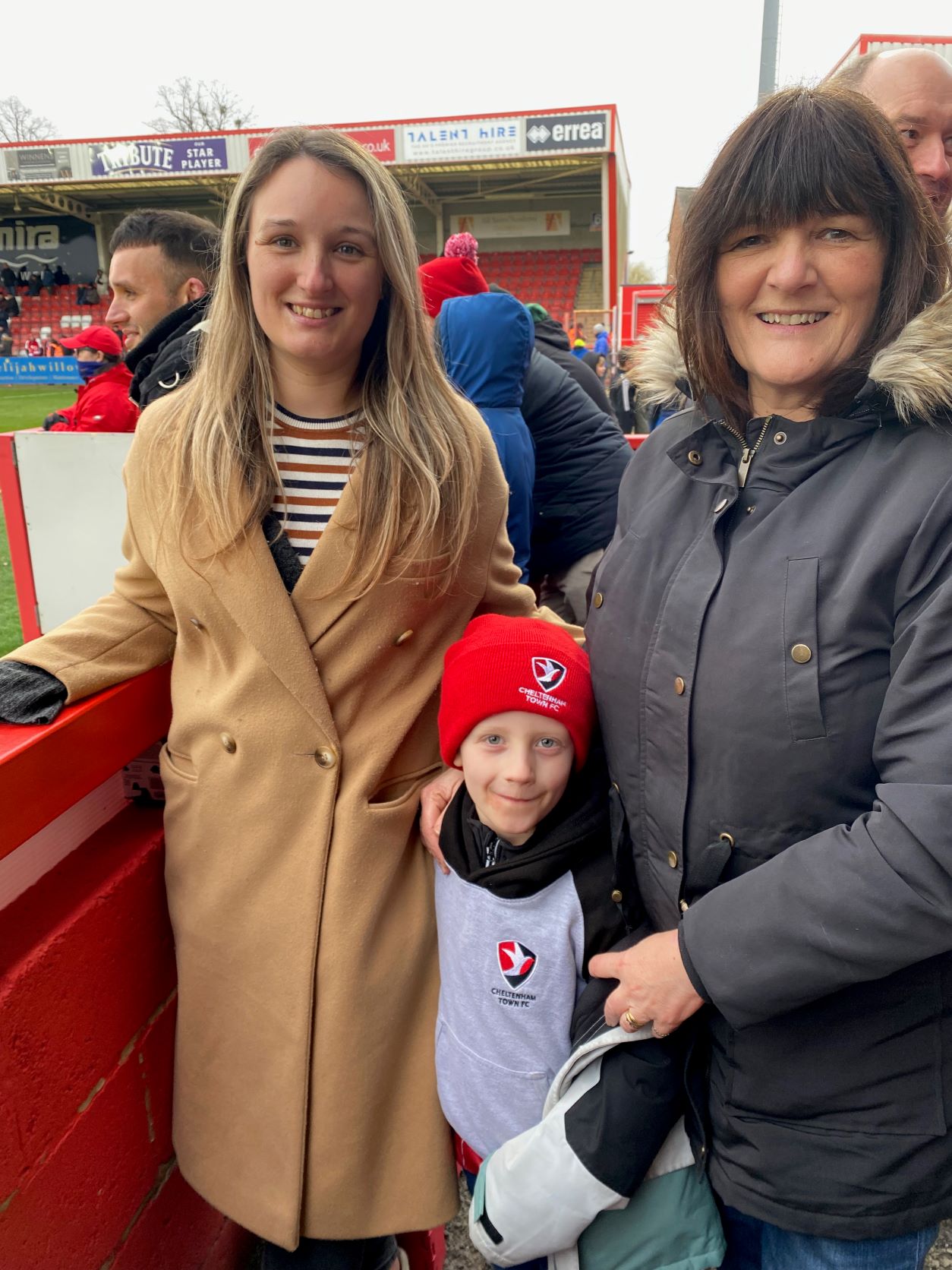 Ruth has supported Cheltenham for roughly 25 years. She started supporting the Robins when she was big enough to see over the barrier in the Paddock and remembers when Chris Banks and Archie (Lee Howells) played for us.
She said, "Cheltenham has been a huge part of my life and now my daughter is a season ticket holder and plays football for Lakeside FC girls.
"I love coming to watch. I plan everything around the fixtures and my husband knows that coming to watch the Town takes priority over everything else!
"When I got married, I was dismayed that I would be missing a match so there was a secret plan to bring me to the match in my wedding dress and meet the manager on the pitch.
"I am a teacher in a local school and my status as a season ticket holder has bought me a lot of kudos with my students who love to chat about the result at the weekend.
"Anyone thinking about getting involved with football whether it is coming to watch, play or volunteer should do it.
"The football community has been a huge positive influence in my life and my family".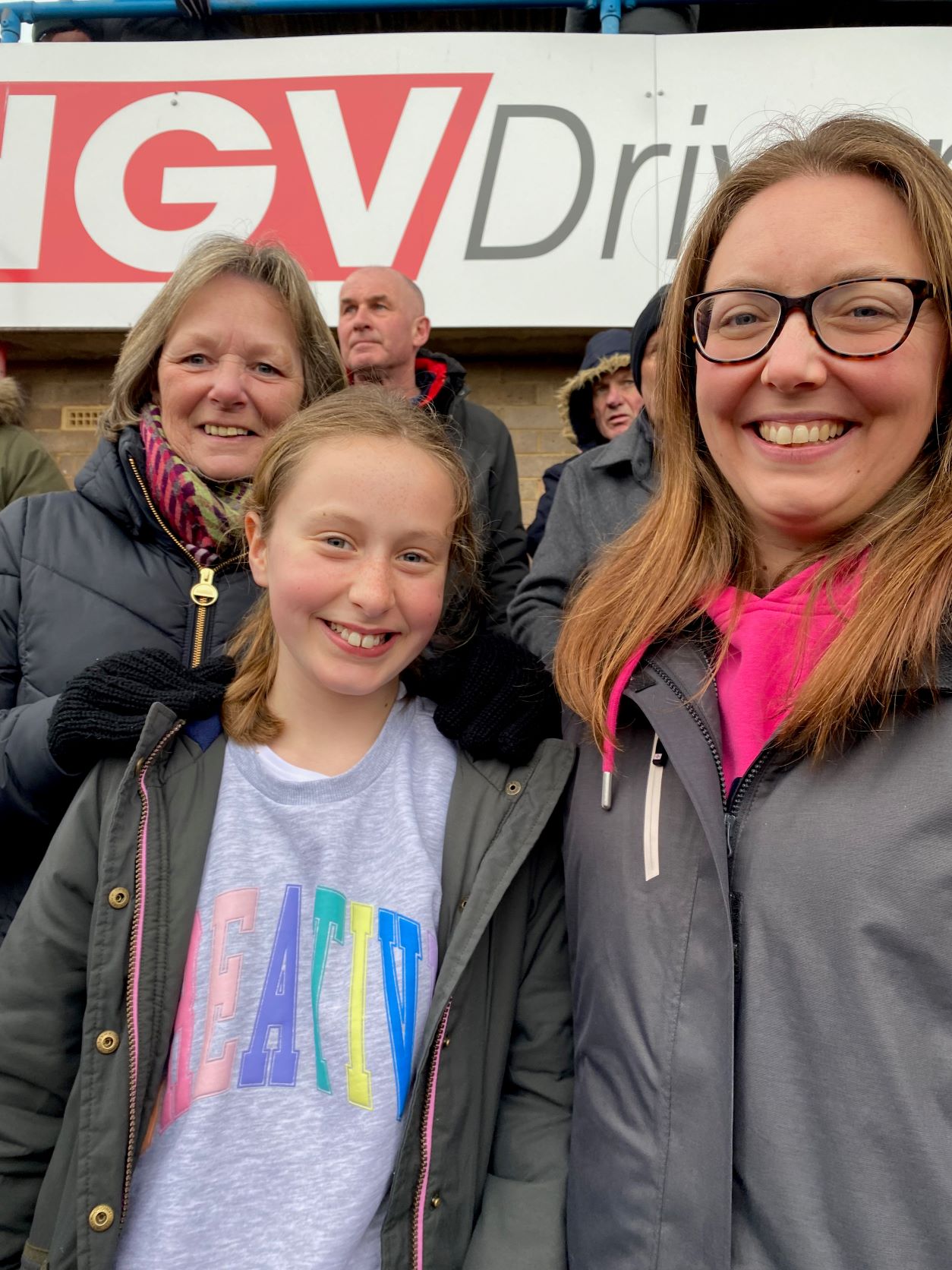 A fantastic testament to women feeling welcome at Cheltenham, but some have had more negative experiences watching football elsewhere.
That's why, in 2021, a group of passionate women fans felt mobilised to start a campaign called, #HerGameToo
The campaign is committed to fostering an ethos in football where women are welcomed and respected equally and can be confident sharing their opinions about football online and in person without fear of sexist abuse.
Their campaign launch video was viewed over 1,000,000 times in the first 24 hours.
#HerGameToo is committed to education, research, support, empowerment and strong relationships with football clubs and communities.
Since their first partnership in July 2021 with Gateshead FC, the number of football clubs and organisations partnered with her game too has rocketed across the Premier League, EFL and non-League clubs.
At the Double Header fixture on Saturday, following a joint project from Cheltenham Town Football Club, Cheltenham Town Community Trust, and The Robins Trust, the launch of an official partnership with #HerGameToo will be an exciting and positive addition to the occasion.
This, following on from our Proud Robins campaign of last season, further cements the commitment to inclusion and diversity in football and in our town.
You will see the HGT logo around the ground along with details of a confidential reporting line for any form of abuse or antisocial behaviour experienced in our stadium.
Visit www.hergametoo.co.uk or follow them on social media Twitter @HerGameToo,to keep up to date with their activities and growing partnerships across English football.
So much happening off the pitch right now! So much to enjoy on Saturday on the pitch too!
Best of luck to CTFC and CTLFC. Come on you Robins and Robinesses!
Jenny Hancock
Chris Russell
Dave Hardy

Supporter Liaison team and Disability Assistance
Cheltenham Town Football Club
Twitter @CheltTownslo – Direct messages please
Proud Robins on Twitter @ProudRobins - Direct messages please