Matchday Information for AFC Wimbledon (A) - 04 November 2023
Tickets and CTFC club travel information is available here: https://www.ctfc.com/news/2023/october/tickets-and-travel-for-afc-wimbledon/
You can find further details on the AFC Wimbledon site: https://www.afcwimbledon.co.uk/tickets/matchday-experience/opposition-fans/
CTFC have confirmed that the Robins have registered to wear red (home) shirts for this fixture.
Your visit to the Cherry Red Records Stadium
Where will away fans sit?
Opposition supporters will be accommodated in the Cherry Red Records Stand, which is the North Stand at Plough Lane and can be accessed via Gate 7 from St Martin's Way or Maskell Road.
Away supporter ticket prices Adult: £10 17 and under: £5
Purchasing and collecting tickets Away tickets for games at The Cherry Red Records Stadium can be purchased either through your club in advance (https://www.ctfc.com/news/2023/october/tickets-and-travel-for-afc-wimbledon/ or you can buy a ticket on the day of a game depending on availability. We advise buying in advance as ticket prices increase on the day of a game.
If you are collecting tickets on the day of the game, you can collect them from the away ticket booth located beside Gate 6.
Stadium map for away fans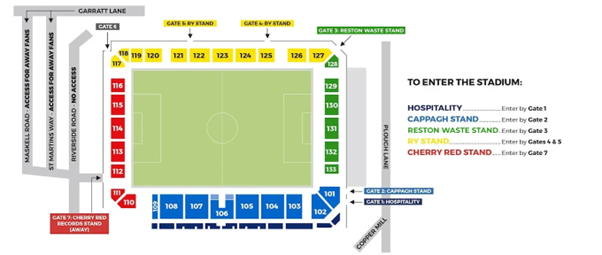 Away supporters can arrive 90 minutes before kick off. Supporters must enter the stadium via the designated entrance for their stand which is indicated on their ticket. Additionally, fans will be required to go through security where they may be searched.
Getting to the ground Cherry Red Records Stadium Plough Lane London SW17 0NR
Public transport The stadium is well served by public transport links, with Earlsfield Station (trains to Waterloo and the South West), Haydons Road (Thameslink and Southern trains to the South Coast, Central London and Hertfordshire) and Tooting Broadway (Tube Northern Line) all within walking distance.
A number of bus services run along Garratt Lane between Earlsfield and Tooting Broadway, while the 493 bus runs from Wimbledon Station (Tube District Line, Tram, South Western Railway and Thameslink) directly outside the Cherry Red Records Stadium. Below is a map of all TFL links to the Cherry Red Records Stadium.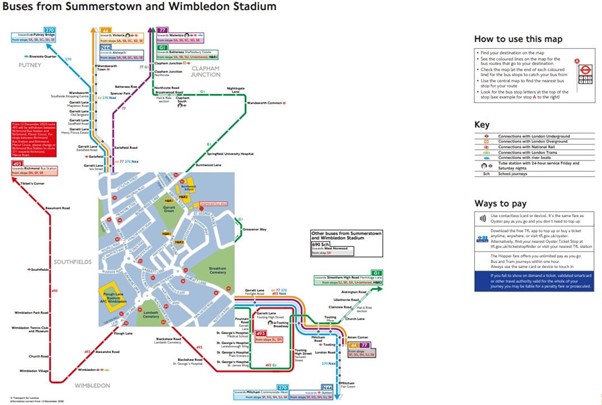 Parking There are limited parking options available around the ground. Where possible, supporters are advised to travel by public transport as parking spaces cannot be guaranteed.
You may wish to consult Merton Borough Council and Wandsworth Borough Council websites for parking restrictions around the Plough Lane area. Wandsworth operates additional matchday parking restrictions in the CPZs near to the Cherry Red Records Stadium.
Bringing a bottle
Following discussions with the EFL, the Safety Advisory Group Chair, and the Met Police, supporters will be permitted to bring drinks of water in clear plastic bottles into our stadium. This will be in the form of 500 ml (or less) clear plastic bottles (an equivalent drinks container as used by children under 16 or those with medical requirements is also permitted). Please note that bottle tops will also not be removed by matchday stewards.
What bottles can you bring into the stadium? Clear plastic bottles (500 ml or less). Unopened fizzy drinks bottles (500 ml or less) can also be brought into the stadium, along with 500 ml containers.
If the top of a bottle/container has been opened prior to entering the turnstiles we reserve the right to check for alcohol content so we can do our best to avoid spectators drinking in view of the pitch. If alcohol is found in bottles the contents will be fully dispensed prior to admission.
Further information is in our news announcement from September 2023.
Supporters with impairments:
Matchday accessibility We want encourage all our fans to enjoy their matchday experience. We are here to make your supporter experience as comfortable and enjoyable as possible. The Club recognises that disabled supporters may need assistance on a matchday and offers a variety of reasonable adjustments based on the individual supporter's needs.
Ambulant disabled supporters There are dedicated ambulant seating should you wish to sit where there are fewer steps and/or level access, at the end of a row and/or close to an exit. To book these seats please ring our ticket line on 020 3988 7863 or email dlo@afcwimbledon.ltd.uk / tickets@afcwimbledon.ltd.uk.
Wheelchair supporters There are up to 92 wheelchair places along with 92 companion seats for home supporters. We will also be reserving seats directly in front/behind of the wheelchair areas depending where you are in the ground for any wheelchair fans who would like to book extra tickets for family/friends to come along to a game and still be near them and their carer/PA.
These seats will be reserved until 5 days prior to a match and can be booked using the same details as above.
Blind and partially sighted Audio description will be available and supporters will be able to book prior to the match by calling 020 8547 3528 or emailing dlo@afcwimbledon.ltd.uk.
Carers/personal assistants Carer/personal assistant tickets can only be used if accompanied by the disabled supporter. If this supporter is unable to attend then the carer/PA will need to pay the match day ticket price to be able to enter the ground.
Assistance dogs Assistance dogs will be welcome to the stadium, supporters with assistance dogs will be required to contact our Disability Liaison Officer prior to the match via phone or email so that we can discuss any additional needs also access into and out of the ground and the welfare of the dog before, during and after the match.
Sensory packs Are available for anyone who needs them, these can be made available on the day but can be pre-booked by emailing dlo@afcwimbledon.ltd.uk.
Parking The Club has 20 blue badge parking spaces for home fans and 8 for away fans available on a matchday. These spaces are just off site and can be booked by emailing dlo@afcwimbledon.ltd.uk. There will be a drop off/pick up zone outside the main stand which has a waiting area while waiting for a carer/PA to park and return.
Other Information Supporter Liaison Officers At AFC Wimbledon home matches, our SLOs are available for queries and assistance for all fans (home and away) and can be identified by their hi-vis SLO tabards. Look for them around the ground. They will be present from an hour before gates open, until the fixture ends.
To ensure the best possible experience for fans visiting Plough Lane, our SLO Team also makes contact with the SLOs of visiting clubs, and will be available to assist or direct fans of those clubs.
You can find out more about the SLOs here: https://www.afcwimbledon.co.uk/club/club-officials/supporter-liaison-officers/