Matchday Information for Blackpool (A) - 24 October 2023
Please see the essential information below for anyone traveling up to Lancashire on Tuesday:
This information is taken from both the Cheltenham club site, and the Blackpool Away supporter guide: https://www.blackpoolfc.co.uk/visiting-bloomfield-road/fan-guides/
Blackpool have allocated Cheltenham supporters seats in the East Stand.
Any tickets not collected from the Completely-Suzuki Stadium by the morning of Tuesday 24th October will be taken to Bloomfield Road for collection on the day from the visitors ticket booth, located next to the away turnstiles.
Getting there By Car If travelling to Bloomfield Road by car the postcode for the SatNav is FY1 6JJ. The route into Blackpool comes courtesy of the M55 motorway, which can be accessed by coming off at Junction 32 on the M6. The best route for visiting supporters is to follow the M55 to the bottom, take the second exit at the roundabout and head straight down Yeadon Way onto Seasiders Way.
Parking Visiting supporters are advised to use the council pay and display car parks over the road from the stadium:
Lonsdale Road Car Park Bloomfield Road Car Park
If you are using a satnav to locate these car parks please use the postcode FY1 6HX.
The main method of payment for parking at both sites is by using the PayByPhone App. There are pay and display machines in the car parks but these are coin only, no change will be given. For the latest information about pricing please visit: https://www.blackpool.gov.uk/Residents/Parking-roads-and-transpo rt/Parking/Car-parks/Blackpool-car-parks.aspx
By Bus Bus routes to the vicinity are served by numbers 5, 6, 7, 11 and 68 from the town centre bus station, while tram services on the promenade are within 10-15 minutes walking distance of the stadium.
By Train The nearest train station to the stadium is Blackpool South (one mile), which also passes Blackpool Pleasure Beach en route to the ground. However, trains to this station run hourly from Preston and vice-versa.
More frequent trains serve Blackpool North train station, which is some 25 minutes walking distance from the ground.
By Foot Bloomfield Road is around a 15-20 minute walk from Blackpool town centre. Follow signs for Blackpool Football Club and head towards Seasiders Way.
Programme: a printed matchday programme is available for £3 from the Club Shop or around the ground.
Bloomfield Road is predominantly a cashless stadium.
Away Fans-Friendly Pubs Away fans friendly pubs near Bloomfield Road are: The Castle - 28-32 Central Drive, Blackpool, FY1 5PZ The Manchester - 231-233 Promenade, Blackpool, FY1 6AH Bloomfield Brewhouse - 47 Ansdell Road, Blackpool, FY1 6PW The Bridge - 124 Lytham Road, Blackpool, FY1 6DZ The Happy Scots Bar - 9 Rigby Rd, Blackpool FY1 5DF
Entering the Stadium: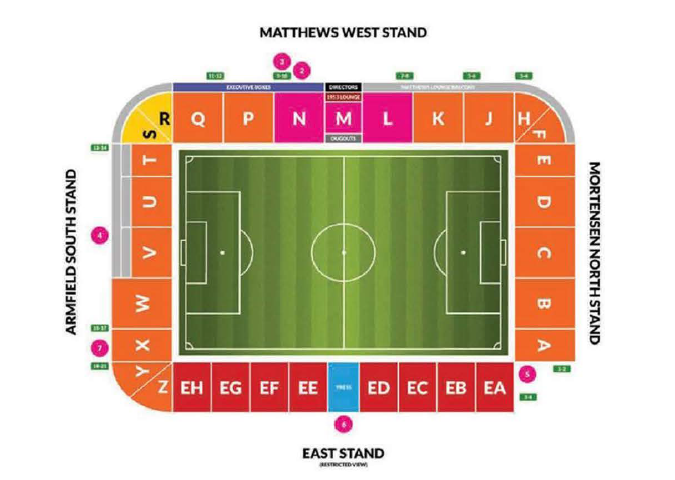 Away fans will be seated in the East Stand and will need to enter via turnstiles 18-21 or 22-25 dependent on their ticket. Most of our turnstiles will close 15 minutes after kick-off. 1 turnstile for each part of the stadium stays open until half-time. Our late turnstiles are 18 and 22.
If you arrive later than that you can go to the emergency gate adjacent to any of the turnstiles. They are staffed throughout the game by stewards who will be able to admit entry to anyone with a valid ticket.
Please be aware you may have to exit via a different route than the way you entered. Fans must adhere to steward instructions for exiting the stadium.
FAQs: Can I take photos/ video the game? Mobile telephones and other mobile devices are permitted within the ground provided that they are used for personal and private use only. Capturing, logging, recording, transmitting, playing, issuing, showing, or any other communication of the game is not permitted and may result in the removal of your device.
Can I bring flags/ banners? "Flags are allowed into Bloomfield so long as the following conditions are met: • It is no more than 250cm in size at their widest or longest section • It does not obstruct any gangways, access routes, exit and entrances, health and safety signage, advertisement signage or stairways • It does not carry offensive, discriminatory or inflammatory messaging • It is flame retardant and you present the appropriate Health and Safety certification upon entry/ when requested"
Can I smoke inside the stadium? We have a strict no smoking policy in the stadium – this includes e cigarettes.
Can I bring alcohol to the game? You are not allowed to bring alcohol into the stadium and any alcohol purchased inside the stadium cannot be consumed in sight of the field of play – this also applies to boxes and hospitality areas.
What time do the turnstiles open? Our turnstiles open 1.5 hrs prior to kick-off.
What do I do if I have a problem in the stadium? Contact the nearest steward who will be able to help you or find the correct point of contact. You can also use the report it app to anonymously report Safeguarding concerns, Anti-Social Behaviour, Prohibited items or other code of conduct violations or concerns.
Can I bring a drum? We do not permit away fan drums into the stadium.
Blackpool Supporter Liaison Officer (SLO) It is a requirement of the EFL that every league club appoints a Supporters' Liaison Officer (SLO), whose role in principle is to act as an intermediary between a football club and its fans. At Blackpool FC our SLO is Steve Rowland. Steve is a season ticket holder in the north stand and he currently has a match day team of two others, Karen McGuinness (season ticket holder in the west stand) and Geoffrey Moore (season ticket holder in the south stand).
You can follow our SLO on social media: @BFCSLO on Facebook and Twitter.
If you would like to contact our SLO about any matters please email slo@blackpoolfc.co.uk or phone/text 07711796685.